THE ROLE OF CONTEMPORARY LITERATURE IN A CHANGING WORLD
10-12 September 2018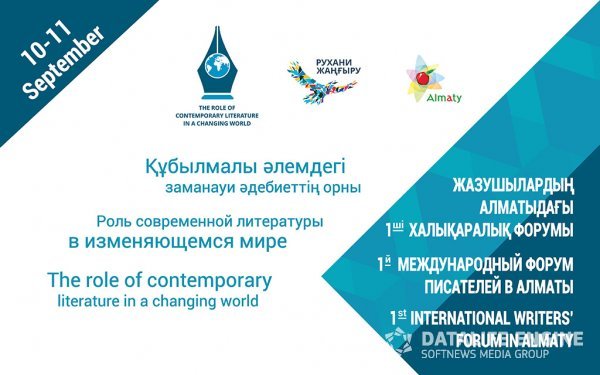 FORUM PROGRAMME
Venue: Rahat Palace Hotel
(29/6 Satpaev Avenue), Almaty, Kazakhstan, +7 (727) 250 12 34
DAY 1:10th September, Monday08:00 – 09:00
Registration of delegates (Rahat Palace Hotel lobby)
08:30 – 09:10
Reception of honorary members of the Forum by the Akim (Governor) of the city of Almaty Bauyrzhan Baibek (at the akimat (City Hall), 6th floor)
09.30 – 09:45
Opening ceremony of the Forum
Conference host: Bigeldy Gabdullin Welcoming address by the Akim (Governor)
of the city of Almaty Bauyrzhan Baibek (Abai Conference Hall at Rahat Palace Hotel)
9:45 – 11:00
Plenary session: CHALLENGES FACING LITERATURE IN THE 21ST CENTURY
(Abai Conference Hall at Rahat Palace Hotel)
Moderators: Bigeldy Gabdullin,
Simon Hollingsworth, Simon Geoghegan, Vladimir Kartsev[/right]
11:00 – 11:15
Coffee break (Abai Hall)
11:00 – 13:00
Continuation of Plenary session
(Abai Conference Hall)
13:00 – 14:30
Lunch (Dzhambul restaurant at Rahat Palace Hotel)
15:00 – 18:00
Discussion: CHALLENGES FACING LITERATURE IN THE 21ST CENTURY
Alexei Tsvetkov, Mikhail Delyagin, Vladimir Kartsev
18:00 – 18:30
Free time
19:00 – 22:00
Welcoming banquet (Dzhambul restaurant at Rahat Palace Hotel)
DAY 2:
11th September, Tuesday9:30 – 11:30
Plenary session: GLOBALIZATION AND NATIONAL LITERATURES
(Abai/Machambet Conference Halls at Rahat Palace Hotel)
Moderators: Bakhyt Kenjeev, Alexei Tsvetkov, Sergey Gandlevsky
The proponents of globalization often speak about the "openness" that globalization has ushered in, about the "free" movement of goods and capital, about "a world without borders". Less often – about the emerging universe and legal systems. Opponents of globalization argue that globalization is unlikely to make people and states free and equal. On the contrary, they assert that globalization generates new types of dependencies, at first glance imperceptible, but which are sophisticated, comprehensive and complete.
The first point of view:
The protection of national interests does not fit into globalization. Globalization will absorb the literature of small nations.
The second point of view:
The processes of globalization cannot be avoided. With the economic and technological development of human civilization, there are more and more points of intersection of mutual interests of peoples, countries, leading to conflicts at first, and then to the search for compromises, agreements, etc., and mutually beneficial cooperation - we all share one "home" - planet earth. Globalization is not an invention of the United States - it is a natural process that theoretically should not encroach on the national sovereignty of any country. The US is trying to ride this process, and, I must say, quite successfully, in order to build a future that suits their industrial and financial elite. The task of all sane and independent decision-makers in governments and states is to actively resist the ambitious dictatorial manners of any political and economic forces that claim to be the world's leader, be they from the USA, the EU, Russia, China, Turkey or anywhere else, in order to establish a global balance of power and interests.
As for national literature, it will never disappear as long as nations continue to produce talented writers and philosophers. And globalization concerns any national literature only in terms of increasing its accessibility to other people. That said, it can be assumed that someday, if humanity suddenly becomes uniformly united, which is highly doubtful, literature, as a derivative of the human mind, will also become one for all. But as long as there is no such unity of peoples, national literature is under no threat.
11:30 – 11:45
Coffee Break (Lobby)
11:45 – 12:15
Closing remarks and closure, by Chairman of the Forum Organizing Committee Bigeldy Gabdullin, and short remarks of guests (Abai/Machambet Conference Halls at Rahat Palace Hotel)
12:15 – 12:30
Commemorative group photo shoot
13:00 – 14:00
Lunch (Dzhambul restaurant at Rahat Palace Hotel)
14:00 – 18:30
Cultural program (sightseeing and acquaintance with Almaty city attractions)
18:30 – 19:00
Free time
19:00 – 22:00
Closing banquet and Concert (Dzhambul restaurant at Rahat Palace Hotel)
DAY 3:
12th September, Wednesday19:00 – 21:00
Poetry evening (student theatre of the Kazakh National Agrarian University)
Olzhas Suleimenov, Bakhyt Kenjeev, Sergey Gandlevsky, Alexei Tsvetkov